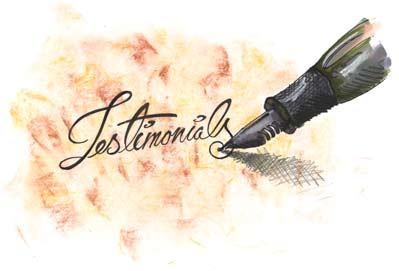 A few words of thanks from Families
I would like to say thankyou very much for the beautiful funeral service for my nana. You read our tributes so well and your added words and poems were so in tune with how we felt.I will always have special memories of that day. Many thanks.
**********
I would just like to write and say how happy we were with the calm and reassuring way you administered the funeral of my brother last Friday.
I would be only to pleased to recommend you to others in a similar position. I know I can speak for all of us in saying you have helped to provide us with a good memory of my Brother's 'send off'. Many thanks.
**********
I hope you are keeping well, I would just like to say thank you for the wonderful service that you gave for my late Father and all the help, support and guidance that you gave, helped me to get through this difficult time.
**********
We are now back in Kuwait and we wanted to say many thanks for providing such a warm family service to say goodbye to Mum and it was very much appreciated by all the family.
**********
Just sending an e-mail to thank you for the wonderful service you carried out yesterday for our Mother. We had many comments after the service saying how well it had all gone especially the opening and closing song 'Spanish Eyes' which had been a favourite of Mum's for many years.
**********
Thought I would drop you a line to say thank you for the sympathetic and jovial way you helped myself, and the considerate way you conducted the service for my father. It was a breath of fresh air in which has proven to be a difficult and sad time for all the family.
**********

Warm thanks for yesterday. Everyone said afterward that it was a lovely service - just right for Hugh. They felt the phone call leading to the result of the 'bet' was great, and many admitted to being taken in by it (my daughter almost took the phone off me the first time it rang!!)

**********

It was, in spite of the circumstances, a good day for the family, and we thank you for the part you played in making the day, and helping it to run smoothly.

**********
Just a quick note to say thank you very much indeed for conducting mum's funeral service so efficiently and smoothly last Wednesday. I have just re-read the service booklet which you produced and have been able once again to appreciate your attention to detail, with its mixture of warmth and concerned sympathy. Tracey was certainly correct in thoroughly recommending you and assuring us that we would be "...in safe hands." The booklet was a lovely, unexpected 'extra' and will serve as a fine souvenir.
**********
Please accept a huge thanks from all the family for the kind and considerate way in which you conducted the ceremony last week for Mum.
We were all really upset in saying our goodbyes and found your words very comforting.
Thankfully we were all able to spend a few hours together as a family on the afternoon of Friday before departing for various parts of the Country and we at least got to enjoy each others company albeit for a brief time.
Again, many thanks.
**********
On behalf of the family may I thank you for helping us through a very difficult time on Monday. You managed to include everything and everybody - it was just right and offended no one.
My siblings were very sceptical before the event but have since been converted. What a great job you did.
I sent a copy of your suggested order of 'service' to Paros on Saturday last and understand they followed it more or less to the letter at the same time we were at Markeaton. Just after the service on Monday we received a call from them to say it went well, it was just as emotional and that they were throwing rose petals on the sea. So you see your influence is spreading far and wide.
My deep felt thanks to you once more for everything.
**********
My wife and I are now back in New Zealand after our trip to UK.
I am just E-Mailing to thank you for the very nice service that you conducted for my mothers' funeral on September 1st at Markeaton.
It was just what we needed at this time of grief. I have read the tribute to her many times over and take great comfort from the words that you spoke, they were exactly right as a reflection of Mums life.
It portrayed everything that she was.
**********
Just wanted to say a quick thank you for the service that you conducted for our Mum.
The words you spoke were perfect and the friendliness that you showed towards my Sister and Myself helped turn a day that we were dreading into a occasion we will always remember and be proud of.
Once again thank you for all your help.
**********

I would just like to express my thanks for the lovely service you gave for
my late Mother, at the Derby Crematorium on Monday.
Everyone there present said what a lovely service it was, and delivered with
such thoughtfullness and feeling, which in many ways mirrored my Mum's life.
Again, our thanks from all the family.
**********


Copyright 2015 Peter White. All Rights Reserved